My First Giant Pumpkin
.
Realistically I don't expect to break any records with my first attempt although I do hope to grow something big enough to enter at the A&P Show later in the fall.
My goal is to reach at least 100 kilos.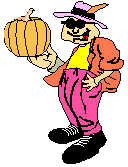 A couple of factors make my attempt somewhat unique from other growers. Beside the fact that this attempt is being made in New Zealand which means summer in January, my pumpkin is being grown out of a series of grow bags the largest of which is sitting inside a spa pool located in a conservatory just outside my bedroom. In other words quite unnaturally this pumpkin in not growing in a garden.
This diary will update the progress weekly and hopefully include photos to show the growth. From what I have read we are on-track timewise.
To read about the progress click the pumpkin
About the Author ... Click Me
.
-----